What is Arakan Martial Art?
Arakan Martial Art is a derivative of a traditional Burmese martial art 'Rakhine Thaing' which was one of the arts practised in the Arakan region of Myanmar by tribes for generations.
Chief Instructor Robert Kyaw (Ne Htoon Kyaw), grew up in Myanmar learning this unique art and has brought it to the developed world and adapted it to suit the needs of the modern society.
Arakan Martial Art is not (and has never been) a ring or a competition-based style; it is perfectly practical and adaptable to real life self-defence situations.
Arakan Martial Art utilises many parts of the body including open hands, closed hands, fists, legs, elbows, knees (and just about every part of the body) in a free flowing manner.
Arakan Martial Art movements involves striking, deflecting, grasping, manipulating, locking and using an opponent's momentum against themselves. Arakan Martial Art utilises knees and kicks which are aimed at below the waist level.
Practitioners are proficient in close quarters combat situations as well as in longer range situations. Arakan Martial art is fast, powerful, unique, interesting, fluid and practical, and is highly effective for self-protection purposes against one, multiple attackers or even against street weapons should the need ever arise.
Chief Instructor Robert Kyaw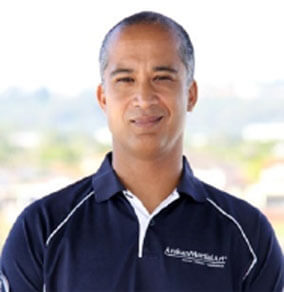 Robert (Ne Htoon) Kyaw was born in Myanmar (formerly known as Burma). His mother and father and their families originated from Sittwe and neighbouring villages in Rakhine (Arakan) on the Western Coast of Myanmar where the art 'Rakhine Thaing' originated. Robert's parents moved to Rangoon as adults and Robert was taught a form of Rakhine Thaing by a close family member for many years.
Due to poor living conditions in Myanmar and the fact that the country was under rigid military rule, Robert's family immigrated to Australia when he was a teenager.
Robert continued to train Rakhine Thaing with his brother but as there were no teachers of this traditional art in Australia he also studied boxing, Kung Fu and Tai Chi and other disciplines including Yoga and Meditation.
In 1993, at the age of 22, Robert started teaching his closest friends his form of Rakhine Thaing for free so that he could have some more training partners, and so Arakan Martial Art was born. At that time, Robert had graduated with a Bachelor of Commerce Degree and was offered several career opportunities but a corporate career was never Robert's dream, so he continued to spend his time teaching martial arts to his closest friends and working several part-time jobs.
His passion and dedication to Arakan Martial Art was infectious and he began to attract more and more students. Robert has now been training martial arts for over 40 years and teaching Arakan for over 25 years. Robert has adapted his traditional art to suit our modern lifestyle and requirements.
Robert is a dedicate husband and father. When Robert is not training Arakan, you will find him teaching Arakan to the next generation, his sons, or spending time with his family, mountain biking, snowboarding, at the beach, training at the gym, reading and meditating. Spiritual growth and self- awareness are high on Robert's hierarchy of values.
Chief Instructor Robert Kyaw considers teaching a true privilege; he believes that his calling in life is to be of service to people through sharing Arakan Martial Art.
Seven great reasons why Martial Arts are great for kids
Increase cardiovascular fitness, strength, flexibility which will dramatically increase overall feeling of well being
Increase coordination and reflexes which will be of great benefit to all other sports and activities
Increase the ability to listen, follow instructions which will be of great benefit in the class room
Gaining the ability to look after him/self through self- defence techniques will give your child an enormous boost in self- confidence and self -esteem which will in-turn increase motivation to succeed in all areas of life
The ability to focus and be a great benefit in all areas of life for your child
The respect and discipline that he will learn will help your child the foundations to build strong relationships with peers of the similar age as well give him/her the ability to better interact with adults.
Your child will gain better knowledge of his/her own self as well as increase awareness of surroundings and massively increase situational awareness which will have enormous benefits in all areas of life